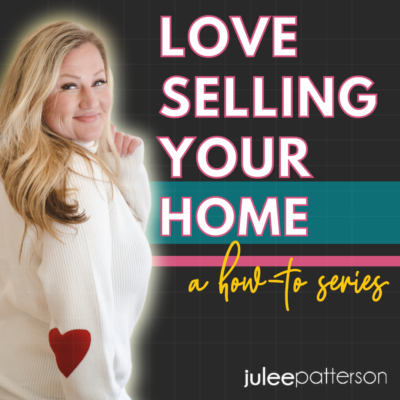 If you've been thinking about selling your Loomis home and are unsure of the steps involved or even where to start, our Love Selling Your Home series can make it happen in twelve short weeks! You'll get essential tips and tricks, plus insider secrets that will give you the edge over other sellers. Whether it's your first time selling or not, this tutorial series breaks it all down, step by step. When the time is ready, you'll be better prepared and not feel overwhelmed.
And as a bonus, we'll provide some inside scoop on how you can buy and sell at the same time with less stress and more money – how's THAT for efficiency?! So are you ready? Here's what each week has in store:
Week 1: How to Find the Best Agent to Sell Your Home
Finding the right real estate agent to help sell your home is a crucial step – and it doesn't have to be stressful! From experience in the market, here are some must-have traits you should look for when selecting an agent. Time may feel like money (it usually does!), but making sure that perfect fit of 'just right' isn't something worth skimping on. We all want success: don't miss out on yours with anything less than ideal representation!
Week 2: Is Your Home "Sellable"?
When it comes to selling your Loomis home, there's definitely more than meets the eye. Sure, you want an attractive place for buyers and good terms like timing or incentives — but don't forget about hidden factors such as the condition of your property or how many investors are residing in nearby condos! A competitive market analysis can help determine if these pieces come together to make a seller-friendly puzzle; let's see what we can create with those pieces!
Week 3: Easy Fix-Ups to Make Your Home Shine
Make sure your home's ready to be seen! Put in the work, and you can maximize its value – but beware of costly mistakes that could make buyers run away. Get all the details on how best to get it primed for potential purchasers.
Week 4: "The Price is Right" Gets Your Home Sold
If your home's price is on-point from the get-go, you'll be sure to draw in interested buyers. But play it too cool or too hot and risk turning away potential purchasers – not something any homeowner wants! Discover how to strike pricing gold for that perfect sale success with these expert strategies.
Week 5: Marketing Your Home to Sell Quickly and Profitably
Ready to get results for the big sale? Marketing is our superpower! We'll concoct a strategy to put your home on everyone's radar! Together we'll create an enticing marketing approach, when combined with the proper preparation and price, will set you up for success to attract those serious buyers who are ready to make offers.
Week 6: When to Say "Yes" to an Offer
You could have several offers coming in when you are selling your Loomis home. How do you decide which is the best one? Price isn't everything; make sure you get tailored guidance so that whatever decision you make is right for YOU.
Week 7: How to Negotiate from Contract through Inspection
Being a seller is serious business – and while it's important to have an agent you can trust, knowing negotiation tactics yourself will give you the upper hand. We'll be your guide on how to stay ahead of contingencies during the back-and-forth period so that all parties come out satisfied! Several members of our team are Harvard-trained negotiation experts, we have the skills and strategies to give you the upper hand.
Week 8: What's an Appraisal and Why Does It Matter?
Selling your home can be nerve-wracking, and even more so when waiting on that all-important appraisal. After tirelessly staging and marketing, the appraisal might mean the difference between achieving a price you love or not! We will show you how to ensure an appraised value in line with what you are asking for – so you'll have smoother sales sail ahead!
Week 9: Pre-Closing Tasks to Check Off Your List
Don't let closing day catch you unaware – make sure the deal is done right with our handy dandy checklist. It'll help cover all your bases and keep surprises at bay, so buyers can confidently move into their new home (and you to your next adventure)! You don't want your deal to fall through if you forget something or miss some important paperwork.
Week 10: Get Organized for the Big Move & Beyond
Sellers, get ready to move out! With all the hustle and bustle of selling your home, it's easy to forget that you still need to pack up and go. Let us help make moving day a breeze; we've got tips for prepping your place with love for its new owners before heading off into the sunset yourself!
Week 11: How to Make Settlement Day a Success
It's the big day! You've worked hard to get your home ready for sale, and now all that's left is settling on a smooth transaction. So you know what to bring and do? We can help – We share the best tips every seller should have in their back pocket before it's time to cash that check!
Week 12 BONUS: How to Buy and Sell at the Same Time
This is a big Catch-22 for homeowners —what's first, buying or selling? To avoid being stuck with two places to make payments on (or worse yet, no place at all!. Learn how you can navigate this tricky dilemma! Pro Tip: We have an exclusive program called Gateway to Sell, and we will share all the juicy details with you!
Selling a home is no small feat, and there's certainly more to it than meets the eye. Get ahead of things by joining us on this journey—you can trust that we've got your back! You'll get one article per week with useful intel about pre-marketing prep for maximum success in selling your house. Plus, you have access to me if something comes up along the way–whether it's understanding when is best time to sell or determining what kind of accommodation would suit you next: I'm here to make sure everything goes as smoothly as possible before putting your property out into market land.
Let's do this together – drop me an email at Julee@GatewayProperties.com whenever you need some extra help navigating through all these steps! From there, we'll put together a step-by-step plan and timing to make sure you get the most out of your current home and how to protect your profits from the sale too.
Are you ready to make a move in the near future? Get ahead of yourself and get your home prepared for sale two (or more) months before it hits the market! I'm here to help, so contact me at Julee@GatewayProperties.com with all your questions. In anticipation of our initial call, feel free to pour over this guidebook – after all, knowledge is power!